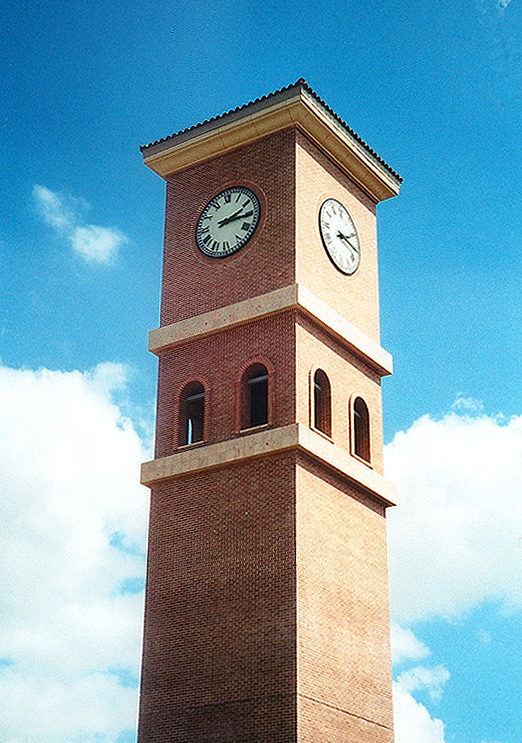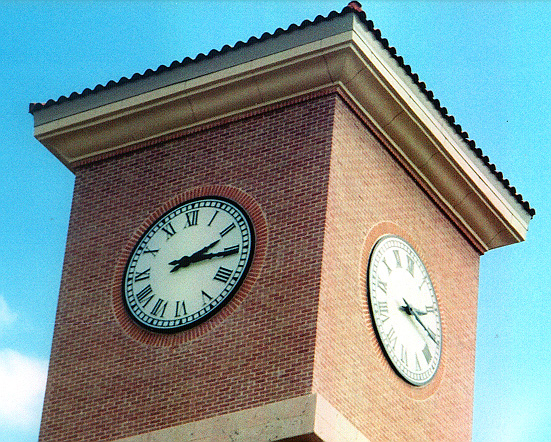 Four Maas-Rowe 8ft. Dia. lluminated Tower Clocks were installed at the time this tower was constructed.
The Clock Faces were formed from a single sheet of GE Solar-grade Lexan Polycarbonate which is much stronger than the more commonly used Acrylic.
The Roman Numerals and Minute Marker Rings forming the clock face design are heat embossed out from the face rather than being attached as separate pieces so they can never come off the face.
The colors are applied to the "second surface" (inside the clock face) so they will not wear off.
Maas-Rowe Computer Controlled Clock Drives reset automatically for after power is restored.
A Maas-Rowe Carillon Chimes the Westminster Melody before each hour followed by the Hour Strike.
One Master Clock controls the scheduling of the Chimes and the time shown by the Clock Hands so they stay synchronized.
A GPS Satellite Link is now available for even greater accuracy.
More Illuminated Clocks
Fallbrook High School
Ramada Inn and others
Legoland
Olivet Nazarene University
Carillons Inc. Retirement Community
More Carillons
Immaculata Chapel
Mission San Luis Rey
California Tower - Balboa Park
Coral Ridge Presbyterian
Expo Tower

Other Products
Tower Clocks Main
Architectural Clocks
Clock Restorations
Carillons
Cast Bells
Church and School Signs