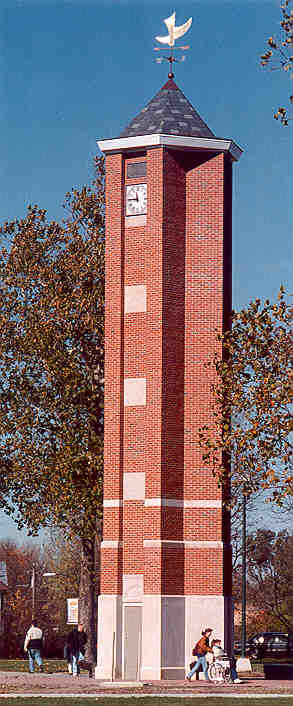 Photo by Paul Rowe
MAAS-ROWE CARILLONS, INC
2255 Meyers Avenue
Escondido, California 92029

Tel. (800) 854-2023
Fax. (760) 747-2677

For Design Assistance:
paulrowe@maasrowe.com
For Brochures and Pricing:
sales@ maasrowe.com

Web Site Design by Paul Rowe
and Mike Trethowan


Olivet Nazarene University
Kankakee, Illinois
A new Clock Tower has recently become the focal point of this campus.
The tower features Maas-Rowe Illuminated Tower Clocks using embossed Roman Numerals with Minute Marks.
The backlit Clock Faces can be seen from a great distance at night.
A Maas-Rowe
Digital Chronobell III system was selected to provide the Westminster Chimes before the hours followed by the striking of the time with a deep-toned bourdon bell.
The Clock Hands are driven by Maas-Rowe's exclusive Computer controlled Clock Drives which keep all three clock faces synchronized with the chimes and resets them automatically after power outages and for Daylight Saving time changes.
The bells are actually small chimes like those in a Grandfather Clock tuned to sound like bells weighing thousands of pounds, then amplified electronically.



More Illuminated Clocks
Carillons Inc. Retirement Comm.
Fallbrook High School
Legoland
Ramada Inn and Others
Olivet Nazarene U niversity
University of Texas - Laredo
Wyomissing Shopping Mall



Other Maas-Rowe Products
Tower Clocks
Architectural Clocks
Clock Restorations
Cast Bells
Carillons
Church & School Signs