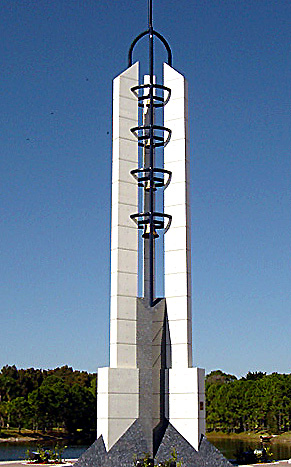 Northwood University
Palm Beach, Florida
Maas-Rowe provided four Cast Bronze Bells for this new bell tower.
Each bell is equipped with an internal electric Striker and is mounted with an acoustic isolation system to minimize transmission of unwanted striker noise to the structure and allow the bells to ring.
The bells were cast in Europe using the bronze alloy of 80% Copper and 20% Tin that was discovered centuries ago to provide a beautiful bell tone when cast under just the right conditions.
Westminster Chimes are played hourly and the bells can be pealed and tolled for happy and solemn occasions.
A Maas-Rowe Digital Cast Bell Master Control Clock activates the bells. It has a battery backup so the time and schedules are retained thoughout power outages. Daylight savings time changes are automatic.

These bells were cast with a "smooth" finish, which is the most economical type. Bells are also available with elaborate decoration and memorial lettering desired cast into the bell.
More Cast Bells
Cast Bells Main
Folsom City Hall
Other Products
Tower Clocks Main
Illuminated Clocks
Architectural Clocks
Carillons
Illuminated Signs